From Tea Trekker
2013 Harvest Tea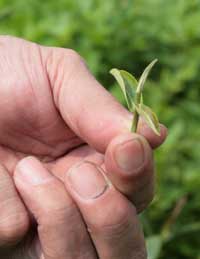 The new tea harvest is well underway in several important locations, and we will be receiving first-of-the-season tea from China soon!
 Again this year – even though the season is running earlier than usual – we expect to be among the first select tea merchants in the US to offer super-fresh green tea at the very beginning of the season.
 These are called Pre-Qing Ming Tea, and they are the Tribute Teas of historical importance. We will be posting these teas on teatrekker.com as they arrive, and also reporting on them in these newsletters so you will know about them.
 This coming week we will be receiving samples of the 2013 First Flush Darjeeling teas as well – and we can't wait to taste those too. And their picks for the top ten from now til summer:  Here is this year's Top Ten List of excellent teas to drink now until mid-summer:    
  1.  all Japanese green teas – sencha, gyokuro, kukicha, matcha, etc
  2.  both of the Longjing Shi Feng teas ( DragonWell )
  3.  our two green teas from Taimu Shan – Snow Buds and Spring Beauty – these are hearty big green teas with tons of richly-vegetal flavor profiles
  4.  any and all of our Darjeeling teas – these change subtly over time and develop nuance that they tend to not have when youthful and assertive. I love a several-year-old Darjeeling in the afternoon as a 'sipper', lots of raisin-y style with more depth and finesse than one expects.
  5.  Hong Zhen Zhu – this excellent, strong China black keeps well because it is rolled into pellets that resemble those of Gunpowder green tea, only this is a black tea.
  6.  Yingde #9 – drinking so well now – this tea is a treat!
  7.  any Yunnan black – these just get better and better with time – at least for several years, and then can be carefully stored for ageing – yum
  8.  Nepal High Himalaya Jade Oolong – this tea is wonderfully bright, with a rich finish and lingering flavor. If you like to be able to taste tea on your palate for a time after drinking it, this tea is for you!
  9.  Semiball-rolled oolongs are perfect for our transitional weather this time of year.
If you live in a season-less climate then they are spot-on for reliability in constant even temperatures too. I am particularly enjoying tasting my way through the 10 gram packets of Taiwan gao shans (again) gong fu style.
 10.  this is an interesting time (weather-wise) to drink Pu-erh, Hei Cha, and Lapsang Souchong. The fermented teas tend to be popular in Asia in the hot weather, although Westerners like them in the cold weather, so now, during this chilly in-between season, I find them to be an excellent 'bridge' from one season to another. Lapsang Souchong drunk right now also helps transition us from wood-stove season into barbecue and grilling season – how bad can that be?